Dr. Kristina Brooks | Naturopathic Doctor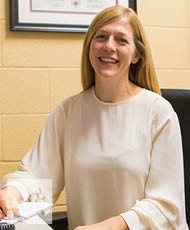 Dr. Kristina Brooks
Naturopathic Doctor, HPC Guelph
---
Dr. Kristina Brooks, ND is an award-winning naturopath in the Guelph Community. She joined the University of Guelph's Health and Performance Centre in 2018 and has been practicing since 2008. Before joining HPC, she was involved at the Canadian College of Naturopathic Medicine as a part-time clinical faculty member and has also served as a clinical supervisor at the Brampton Naturopathic Teaching Clinic since 2013. Within the team at the HPC, Dr. Brooks' role is to support foundational health and remove obstacles to wellness and recovery.
"Using an evidence-informed approach, I apply tools such as functional foods (using food as medicine), botanical medicine, acupuncture and general lifestyle (sleep, digestion, stress management) to address your concerns," says Dr. Brooks. "With 10 years of experience in an integrative setting focusing on chronic pain and injury, I understand some of the primary challenges that delay optimal healing. I strive to collaborate with your existing practitioners within the HPC and beyond, as appropriate to achieve improved health, recovery and performance. In addition, I have trained and competed as an equestrian in show jumping for many years. As such, I have followed the sport treating many FEI and Olympic-level riders. I understand the demands of academics and sport, and would be honoured to work with you."
Regardless of age, we all possess health risk factors. By addressing these underlying concerns, Dr. Kristina Brooks can help improve your overall health and potentially reduce your risk for further injury and long-term health consequences. "I strive to provide you with the necessary tools and knowledge to address both current health concerns, in addition to prevention of future disease and injury, alongside your ongoing healthcare team."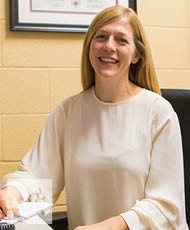 Education:
Bachelor of Science, University of Guelph
Doctor of Naturopathy, Canadian College of Naturopathic Medicine
Continuing Education and Certificates:
CPR Healthcare Provider Level C (2022)
CONO – Prescribing Standard of Practice Certification (2016)
Essential Elements of Bio Identical Hormone Prescription (2016)
Certified in Facial Rejuvenation Acupuncture (2010)
Certified First Line Therapy Practitioner (2010)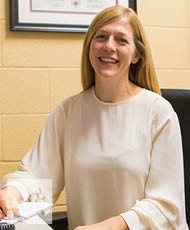 Professional Membership & Licenses
Member of College of Naturopaths of Ontario
CCNM Alumni
---
The services offered at the University of Guelph's Health and Performance Centre offer clients a collaborative approach unlike any other in the City of Guelph. Our expansive team of experts at the Health and Performance Centre will work together to ensure all of our client's needs are met to the highest standards. See the links below to explore some of the other talented practitioners who call the University of Guelph's Health and Performance Centre home!
---