Guelph Pedorthist & Orthotics | Health & Performance Centre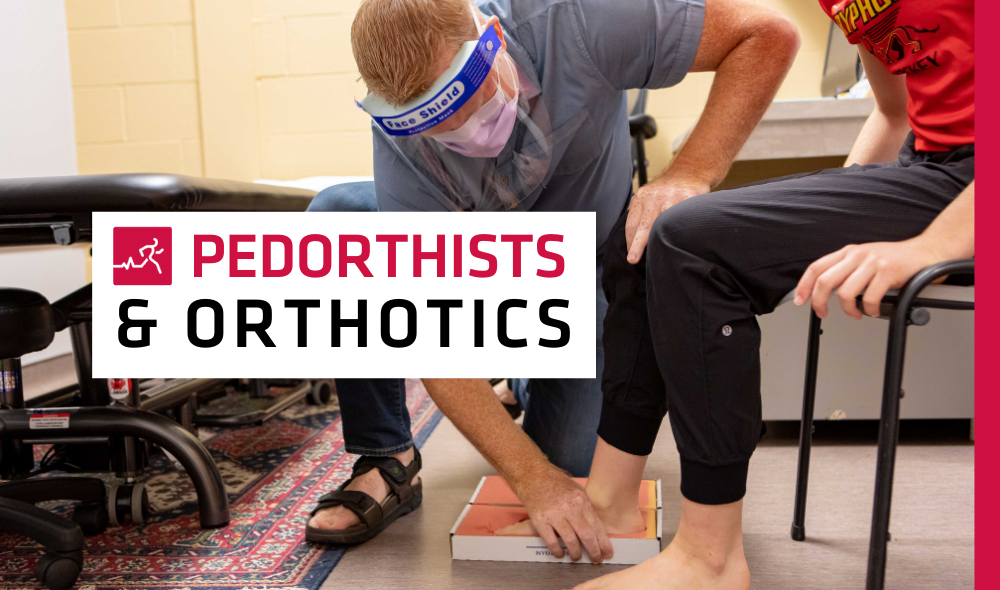 Certified Pedorthists & Custom-Made Orthotics
Thank you for voting the HPC as the best Orthotic Services (Reader's Choice Diamond) & Foot Care Clinic (Reader's Choice Gold) in Guelph for 2022.
Our Certified Pedorthists help our clients by completing a comprehensive gait analysis to assess and treat biomechanical conditions of the feet and legs. By analyzing the motion of the foot during walking, underlying biomechanical problems of the feet can be identified, and the foot can be placed into correct footwear and/or shoe inserts (orthotics) to avoid future injury. From there, a fitting is completed to start the process of hand-made custom orthotics. Our Certified Pedorthists also provides running shoe consultations. HPC is the Official Sports Medicine Clinic to the Guelph Gryphons, our Certified Pedorthists work with a variety of Gryphon teams and athletes.
---
---
Pedorthists & Orthotics FAQ

Pedorthists are trained and qualified to treat and care for feet and focus on the biomechanics of the feet and lower limbs, providing comprehensive foot assessments custom foot orthotics and recommending or modifying footwear.
Services Provided:
Comprehensive foot assessments

Custom foot orthotics

Modifications to orthotics

Footwear modifications

Orthopaedic footwear fitting

Off-the-shelf orthotics (non-custom)

Custom toe spacers

Bunion splints

Plantar Fasciitis Splints
Training: 4-year Undergraduate degree in Kinesiology (or related field such as Human Kinetics) plus a Diploma in Pedorthics (12 month post-graduate program). Certification/Credentials: Canadian Certified Pedorthist (C Ped (C) )
If you're experiencing significant foot and heel pain, your doctor will likely suggest seeing a Pedorthist. First, they will evaluate your symptoms and ask questions like:
How often are you on your feet?

What types of shoes are you wearing (heels, safety shoes etc.)

When did you first notice foot pain symptoms?

What makes your pain or discomfort symptoms worse, and what makes them better?
Next, a Pedorthist will conduct a physical exam of your feet which will look for deformities and areas that are causing foot pain and discomfort. We will then observe you walking and/or performing other activities to determine how the feet and ankles are positioned during certain exercises.

We may also refer you back to our physician and recommend traditional imaging of your feet (X-ray, bone scan, or MRI) which can help identify areas of arthritis, damage, or injury.

A Pedorthist will suggest treatment recommendations, including to potentially prescribe orthotics using these diagnostic methods.
There is no clear answer, but your orthotics will fatigue and start to lose their support over time. Like tires on a car, it's not a matter of how long you have owned them, but how many kms you have put on them that counts. ⁠ ⁠ A general rule of thumb is that you should consider replacing your orthotics every 2-3 years, but we recommend that you come in for an orthotics check-up on an annual basis. If you're interested in an orthotics review, call HPC at 519-767-5011⁠.
Orthotics can be part of a comprehensive treatment plan to address various symptoms, usually having to do with pain and discomfort of the feet and legs.

Goals for orthotic treatment may include:
correcting foot deformities
helping the foot or ankle function better
providing support to the ankle
reducing the risks for further injuries
Your doctor may recommend an orthotic insert if other treatments haven't proven effective.
Rigid orthotics, or "functional orthotics," are made from materials like plastic or carbon fiber. These types of orthotics are designed to ease foot aches and strains as well as pain in the legs, thighs, and lower back that you might feel if your foot doesn't work like it should.

Soft orthotics, or "accommodative orthotics," are made from soft compression materials. They provide cushioning to take the pressure off uncomfortable or sore spots from conditions such as Rheumatoid Arthritis or diabetic foot ulcers. Because of their bulk, you might need to wear soft orthotics with prescription footwear.

We also provide foot care to athletes. Ask about our special orthotics designed for sporting equipment such as ski boots, running shoes, and skates.
Orthotics are a one-of-a-kind solution created for you based especially on your unique body and needs. They provide support for improved overall body function and can be used to help treat various injuries, including:
shin splints

knee & back pain

plantar fasciitis

general aches and pain from prolonged standing or movement in the foot, hips, back and legs

diabetes-related foot problems

arthritis in the feet

flat feet

high arches

foot deformities like bunions

bursitis
Our bodies work as an interdependent system, and when one part of that system doesn't function properly (especially the foundation of our bodies, like the feet), it can negatively impact other parts leading to over or diminished use. Orthotics are designed to support and stabilize the foot and improve overall body function including postural issues, foot discomfort as well as back pain and joint pain. Conditions like high arches can stress muscles in the feet which may lead to several conditions, such as shin splints, knee pain, and plantar fasciitis. Orthotics can also help prevent a person's feet from rolling excessively inward or outward.
Wearing orthotics while working out can positively influence the way the entire body moves. Ask about our special orthotics designed for sprinting spikes, jumping shoes, and racing flats.
Orthotics are more than just a heel pad or shoe insert you can buy at most athletic stores. They're highly customized shoe or heel inserts made for your feet. The reason there is such a difference in price has to do with the customization and materials used when making the orthotics. The quality and durability of the materials, coupled with the custom molding process, contribute to the expense of custom orthotics. They cost more, but last longer and can be more effective.
Are you a University of Guelph employee or student? Visit our benefits pages to see if you may be covered.