Dr. Kate Henderson | Chiropractor, HPC Guelph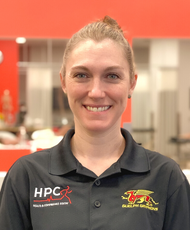 Dr. Kate Henderson
Chiropractor, HPC Guelph
---
Dr. Kate Henderson graduated from the Canadian Memorial Chiropractic College in 2011 and has worked at the Health and Performance Centre as a Guelph Chiropractor since 2015. Kate has strong ties to the University of Guelph as a Human Kinetics graduate, former Health and Performance Centre volunteer and member of the National Championship-winning Cross Country/Track and Field teams.
Kate has enjoyed working with athletes as part of the Integrated Support Team with the University of Guelph Cross Country and Track & Field teams, Laurel Creek Track Club, and at the 2015 PanAm/ParaPanAm Games. Most recently, she had the pleasure of working with Athletics Canada, supporting our National Team athletes as they prepared for the Tokyo Olympics and Paralympics. Dr. Henderson also has a passion for women's athlete health and helping women feel strong through all stages of life, including the pregnancy and postnatal period. She has completed focused training to specialize in providing women with evidence-based information and care in rehabilitating the core and returning to fitness postpartum.
All patients can expect a thorough assessment and diagnosis of neuromusculoskeletal injuries, followed up with individualized and goal-oriented treatment. Treatments with Kate may include manual therapy, myofascial release, contemporary medical acupuncture, and rehabilitation exercises.
For the 2022-23 season, Kate will be working as the team chiropractor for the Guelph Gryphons varsity track & field, cross country and women's soccer teams.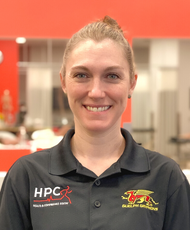 Education:
Doctor of Chiropractic, Canadian Memorial Chiropractic College
Bachelor of Science (Honours in Human Kinetics), University of Guelph
Active Release Technique Upper Extremity 2015
Active Release Technique Lower Extremity 2012
Active Release Technique Spine 2010
Continuing Education and Certificates:
Certified Postnatal Fitness Specialist (2022)
Sports Medicine Clinical Rounds and CME education series, ongoing monthly
Functional Integrated Needling: Sports Injury Management (April 2018)
Julie Wiebe's Female Athlete: Ready for Impact (2018)
Sports First Responder (August 2017)
Contemporary Medical Acupuncture, McMaster University (2011)
Julie Wiebe's Diaphragm/Pelvic Floor Piston for Adult Populations (2016)
Pelvic Floor for the Non-Internal Therapist (2016)
Panam/Para PanAm Sports Medicine Congress (2015)
Motion Palpation Institute: Analysis and Adjustive Technique Spine (2014), Dynamic Movement Assessment Upper Extremity (2013)
Run Faster: The Annual Conference of the Royal College of Chiropractic Sports Sciences (2013)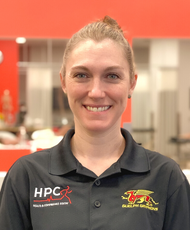 Professional Membership & Licenses
Member of the College of Chiropractors of Ontario
Member of the Canadian Chiropractic Association
Member of the Ontario Chiropractic Association