Meet HPC's 2023 She's Got Game Scholarship Recipient: Marielle Kleuskens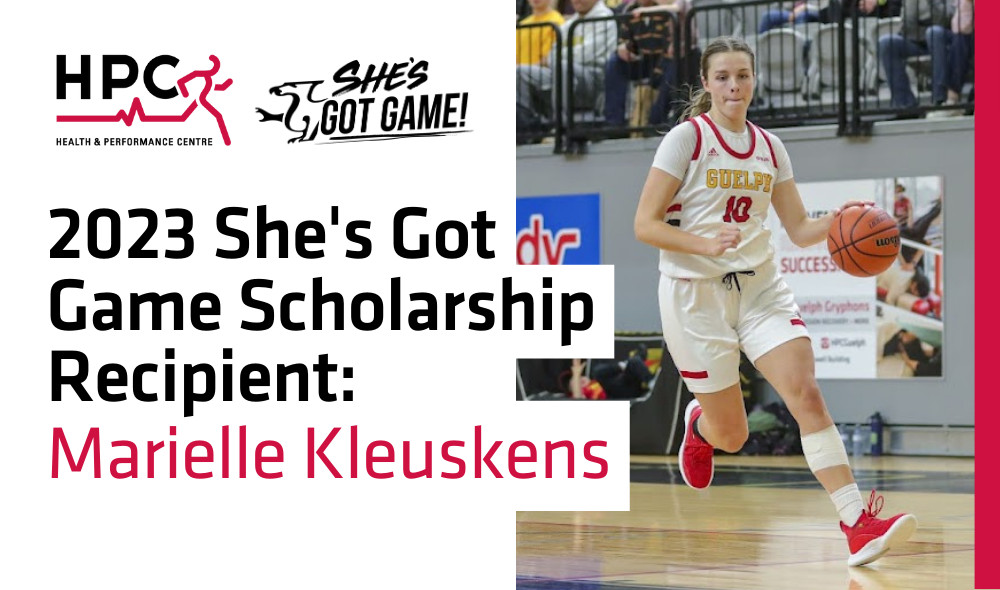 In 2019, the Health and Performance Centre (HPC) established the HPC She's Got Game Scholarship. This $4,500 annual scholarship is awarded to a female University of Guelph varsity athlete aspiring to work in the health sciences field. The HPC Scholarship ideally supports women in science and considering a medical/allied career such as physiotherapy, medicine, chiropractic, or massage therapy.
This year's recipient is the Guelph Gryphons women's basketball forward, Marielle Kleuskens from London, ON, who is in her fourth year at the University of Guelph studying Human Kinetics. Get to know Marielle by reading the bio below!
READ → HPC's Commitment to Supporting Women in Sport & the history of the HPC She's Got Game Scholarship
---

University of Guelph Student-Athlete, Marielle Kleuskens
For most Ontario University Athletics (OUA) basketball players, the goal of one day making it on a roster at the varsity level is an objective that is typically committed to early in life. But that was not the case for Marielle Kleuskens, a now 22-year-old product of Saunders Secondary School in London who is in her fourth season with the Guelph Gryphons women's basketball team. For Marielle, a talented forward who stands at 6-feet-tall, the decision of whether or not to pursue a collegiate basketball career was something she wrestled with throughout her high school years. In fact, it was not until midway through her senior year in high school that Marielle finally decided that competing in OUA women's basketball was something she wanted to do. There were two main factors which helped her come to that conclusion, a new and improved experience at the competitive club level, and a welcoming and inclusive team culture within the Gryphons women's basketball program.  
After enduring some tough seasons as part of the Gold Medal Basketball Club, where wins were often tough to come by, Marielle joined the London Ramblers in her senior year. There, she rejuvenated her love for the game while continuing to compete at a high level within the JUEL league, Ontario's longest-run competitive club basketball league. After proving she belonged on the court at the club level and with a renewed passion for her sport, Marielle narrowed down her post-secondary search to Queen's and Guelph. Academically, the University of Guelph checked all the boxes, but it was the welcoming culture already established within the women's basketball program at U of G which helped seal the deal for Marielle, who has played a key role with the Gryphons.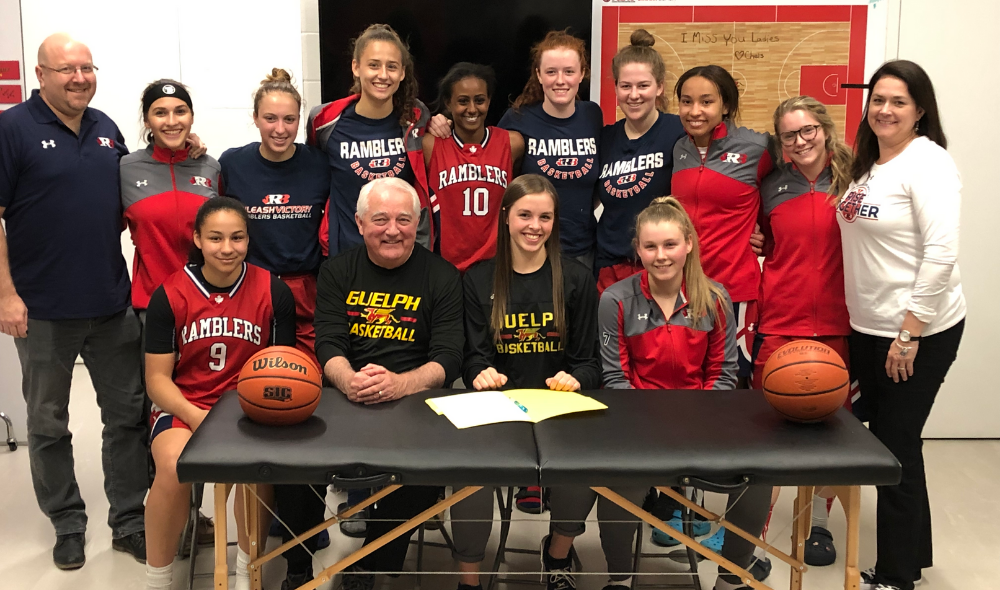 Marielle's career with the Gryphons started in 2019. She describes her first season as a "true rookie year", stating she learned a lot about the game at the university level and developed further as a player. Following the global pandemic in her second year, which involved no basketball competition, Marielle faced a series of unfortunate injuries in her third year with the Gryphons. Bouncing back from her years out of sport, she is now in her fourth year and contributing greatly to the success of the Gryphons women's basketball program, with their current record of 10-4.  
Mark Walton, former head coach of the Gryphons women's basketball program, describes Marielle as a charismatic leader in the locker room who possesses a great basketball IQ. That IQ extends beyond athletics and into the classroom, where Marielle attained U SPORTS Academic All-Canadian honor role status, studying human kinetics, during each of her first three seasons with the Gryphons.  
Megan Reid, Interim Head Coach of the Gryphons Women's Basketball program, describes Marielle as the
"consummate teammate and natural leader on and off the court. It has been incredible to see Marielle's transformation over her four years, particularly considering the personal challenges she has had to face. We count on Marielle to be the positive, steadying anchor and it is fantastic to see her coming into her own on the court. There is nothing that can stop Marielle from succeeding." 
Marielle also contributes to her Gryphon community as a SAM mentor to many first and second-year student-athletes, acting as a role model and academic support person at weekly check ins. "She is the perfect fit for this role—calming and supportive, understanding and uplifting," says Coach Megan. In particular, first-year student athletes from our team look up to Marielle on and off the court.  We are so grateful to have a leader like Marielle on our team. 
---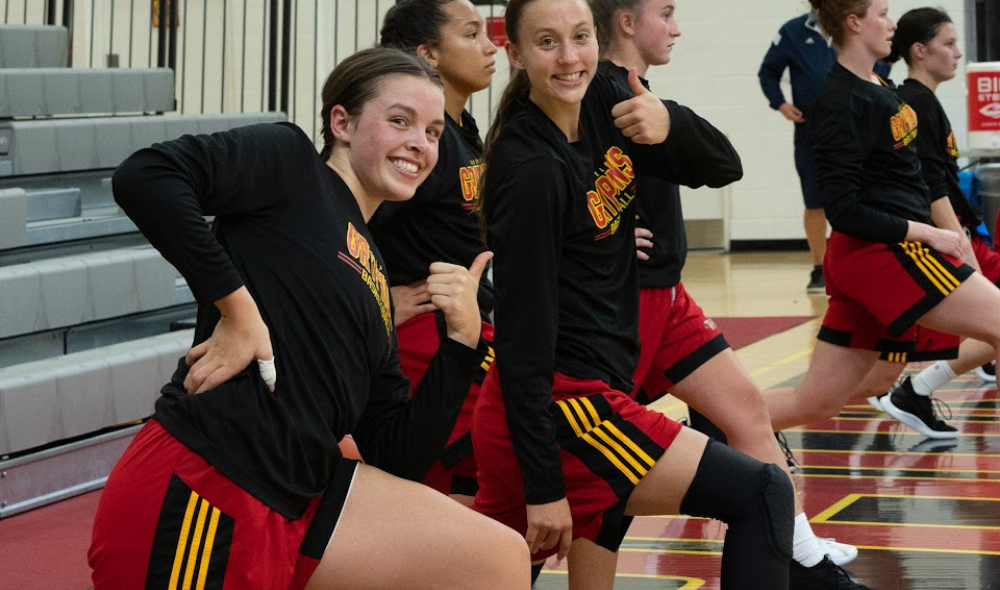 Q&A: 
Q: How has the supportive and inclusive team culture within the Gryphons women's basketball program played a role in your development as a student-athlete?  
A: The Gryphons women's basketball team's supportive and inclusive culture has greatly impacted my development as a student-athlete. Academically, athletically, and personally, this team has pushed me to be the best version of myself. Through my supportive teammates, coaches, and trainers, I have never felt so valued for my true self on a team. This team is special because our coaches do an amazing job at recruiting great people who also happen to be great athletes. We know and love each other so much, and I think that is what makes us a great group. 
Q: Can you share a specific example of how the HPC scholarship has helped you to balance the demands of being a student-athlete and excel academically? 
A: The SGG HPC Scholarship is so valuable to me as a student and as an athlete. Combining my academic and athletic requirements equates to more than 40 hours a week in class or in training. On top of these requirements, I spend many hours out of class studying and completing assignments. With this very demanding schedule, working part-time during the school year would absolutely hinder my academic and athletic success. The HPC scholarship allows me to focus on my academic and athletic success without the worry of working part-time during the school year. 
Q: Can you speak to how the Health and Performance Centre's support has helped you to improve your performance both on and off the court? 
A: The Health and Performance Centre has been integral to my story as a student-athlete at the University of Guelph. Living away from home finding healthcare can be hard, but the HPC being conveniently located on campus and combining various healthcare practitioners, makes finding help so much easier. As a student-athlete, I have faced both major and minor injuries, all of which were all taken care of at the HPC where I achieved full recoveries.  
Q: What advice would you give to young female athletes who are looking to pursue a varsity basketball career and how they can succeed both on and off the court?  
A: To young female athletes aspiring for future athletic success, I would say two things; don't compare yourself to others, and give your best effort every day. Your best will look different from day to day and that's okay! Your best might look different to someone else's and that's also okay! As long as you are trying your hardest that is something to be proud of.  
---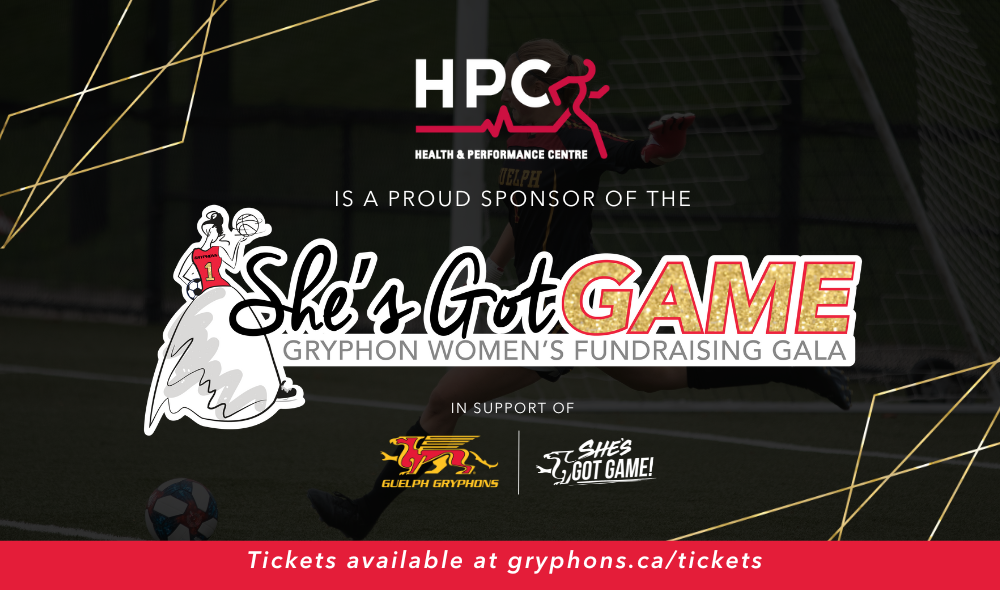 HPC's Announces 2023 She's Got Game Gala Sponsorship
We are thrilled to announce that the Health and Performance Centre (HPC) will once again be a sponsor of the upcoming "She's Got Game Gala" event. This gala is a celebration of the commitment, determination, and excellence of our Gryphon women's athletes, and it also raises money to contribute to their future academic and athletic success.
The event brings together alumni, families, friends, and members of the community to support and promote these talented athletes and the women's varsity program. The keynote speaker for the 2023 She's Got Game Gala is Miranda Ayim, a three-time Olympian in the sport of basketball and flag bearer for Team Canada at the 2020 Opening Ceremonies. She is also the founder of Cultivate Co., an organization that empowers people to bridge the gap between wellness and performance.
We invite you to join us for this special night and support the efforts of the She's Got Game initiative. We look forward to seeing you at the gala!
WHEN: February 11, 2023 | 5pm - 10pm
WHERE: Delta Hotels by Marriott Guelph
DETAILS: Formal Attire Cocktails & Hors D'oeuvres 3-Course Dinner Silent Auction & Live Auction Cash Bar Heads & Tails
History of She's Got Game:
She's Got Game is built on three pillars - engagement, policy, and fundraising - and provides the foundation for Gryphon Athletics in its quest to encourage women in sport and help them acquire the tools necessary to succeed both on and off the field of play.
The Guelph Gryphons She's Got Game initiative started in 2016 with the inaugural gala event and has since raised over $1.7 million and expanded into a merchandise line, kids camp, and speaking series. She's Got Game continues to grow its community outreach each year. This past year, scholarships raised through She's Got Game supported over 100 student-athletes. The Department of Athletics has invested in new policies, widened the conversation, and brought more women into sport leadership positions, including three women coaches receiving full-time appointments.