Celebrating the Retirement of Dr. Margo Mountjoy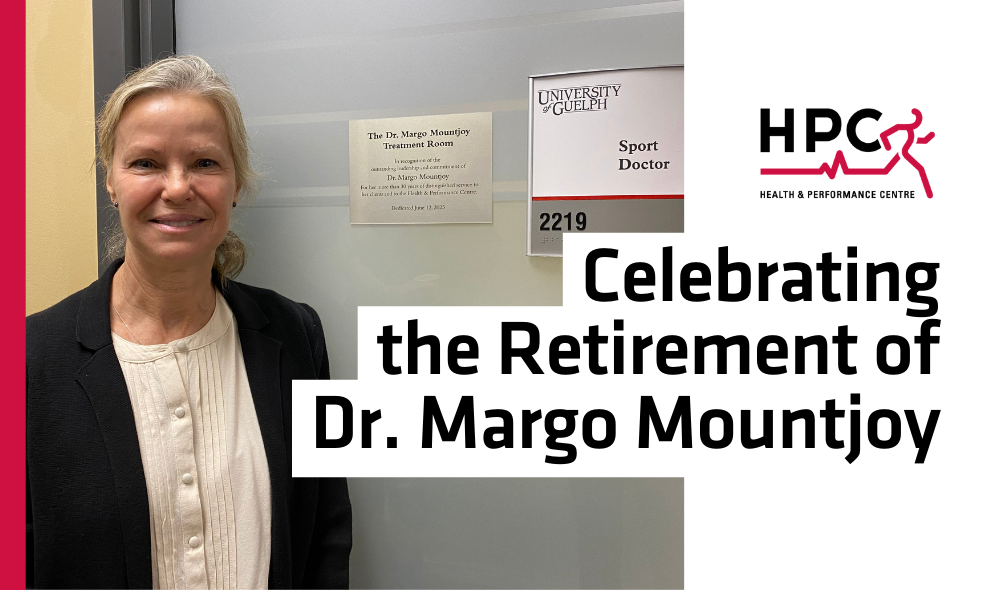 The Health and Performance Centre (HPC) is proud to recognize and celebrate the retirement of Dr. Margo Mountjoy, a dedicated member of the HPC team for over 20 years. Dr. Mountjoy's contributions to the field of sports medicine and her unwavering commitment to the well-being of athletes and the University of Guelph and within the Guelph community have left an indelible mark on the organization.
Dr. Mountjoy began her career at the University of Guelph in 1988, providing care to student-athletes even before the establishment of the HPC. Her early work exemplified her passion for sports medicine and commitment to helping athletes achieve their highest potential. When the HPC was established in 1991, Dr. Mountjoy played a crucial role in its development, working closely with Director and other faculty members to merge clinical practice, experiential learning, and research under one roof.
Throughout her remarkable tenure at the HPC, Dr. Mountjoy has achieved countless milestones and accomplishments. Her involvement in various athletic initiatives, both nationally and internationally, has showcased her dedication to the advancement of sports medicine. Despite her extensive travels, Dr. Mountjoy has always returned to the HPC, sharing her expertise and nurturing a passion for education. Her support of the volunteer program and her commitment to mentoring medical learners have impacted the future generation of sports medicine professionals.
In recent years, Dr. Mountjoy assumed a leadership role within the HPC, serving as the Clinical & Academic Lead. She spearheaded numerous initiatives aimed at advancing the work of the HPC, fostering collaboration among the multidisciplinary team, and promoting excellence in patient care. Dr. Mountjoy's vision and dedication have been a constant source of inspiration to her colleagues. One of the most outstanding qualities of Dr. Mountjoy has been her unwavering dedication and care for the athletes and clients she has worked with over the years. 
With immense pride, the HPC announces the dedication of the Sport Medicine treatment room in her honour. This commemoration reflects her profound impact on the lives of countless individuals who have sought her expertise and guidance.
"While Margo retired from HPC last year, we were still in the throes of the pandemic and did not have the opportunity to recognize this milestone and the many contributions she has made to the HPC, athletes, and the university community," said Alison Burnett, Director of Student Wellness, "I am happy we are able to do that today - better late than never."

Dr. Margo Mountjoy's retirement marks the end of an era at the HPC, but her legacy will continue to inspire and shape the future of sports medicine. The Health & Performance Centre extends its heartfelt appreciation and wishes her a joyous retirement filled with well-deserved relaxation and new adventures.
---