HPC Announces 2023 She's Got Game Gala Sponsorship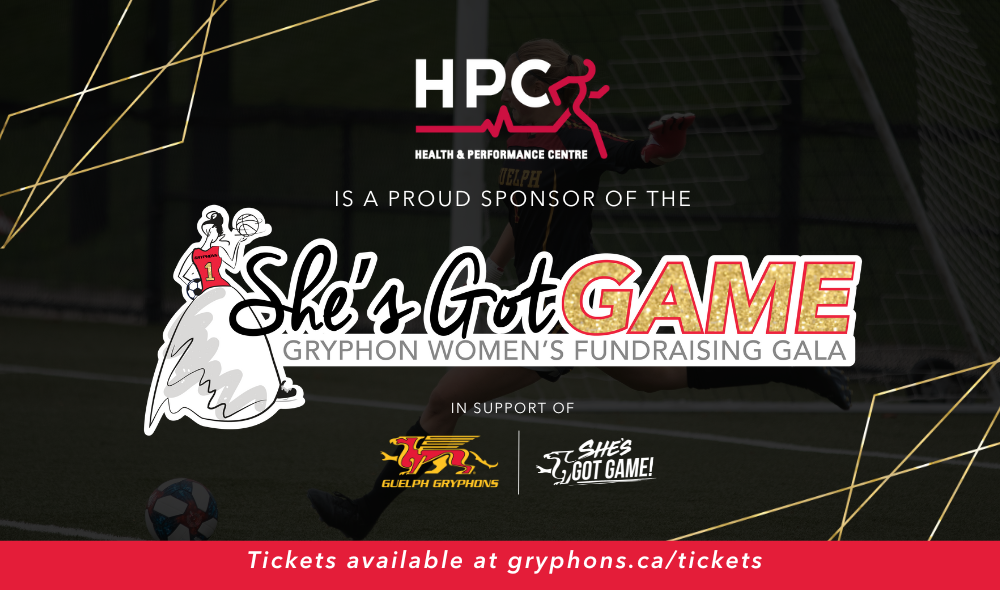 We are thrilled to announce that the Health and Performance Centre (HPC) will once again be a sponsor of the upcoming "She's Got Game Gala" event. This gala is a celebration of the commitment, determination, and excellence of our Gryphon women's athletes, and it also raises money to contribute to their future academic and athletic success.
The event brings together alumni, families, friends, and members of the community to support and promote these talented athletes and the women's varsity program. The keynote speaker for the 2023 She's Got Game Gala is Miranda Ayim, a three-time Olympian in the sport of basketball and flag bearer for Team Canada at the 2020 Opening Ceremonies. She is also the founder of Cultivate Co., an organization that empowers people to bridge the gap between wellness and performance.
We invite you to join us for this special night and support the efforts of the She's Got Game initiative. We look forward to seeing you at the gala!
WHEN: February 11, 2023 | 5pm - 10pm
WHERE: Delta Hotels by Marriott Guelph
DETAILS: Formal Attire Cocktails & Hors D'oeuvres 3-Course Dinner Silent Auction & Live Auction Cash Bar Heads & Tails
History of She's Got Game:
She's Got Game is built on three pillars - engagement, policy, and fundraising - and provides the foundation for Gryphon Athletics in its quest to encourage women in sport and help them acquire the tools necessary to succeed both on and off the field of play.
The Guelph Gryphons She's Got Game initiative started in 2016 with the inaugural gala event and has since raised over $1.7 million and expanded into a merchandise line, kids camp, and speaking series. She's Got Game continues to grow its community outreach each year. This past year, scholarships raised through She's Got Game supported over 100 student-athletes. The Department of Athletics has invested in new policies, widened the conversation, and brought more women into sport leadership positions, including three women coaches receiving full-time appointments.