Optimize Your Back Health While Working From Home

Over the course of the past year, the COVID-19 pandemic has forced millions of Canadians to adjust to new realities when it comes to workplace environments. With so many folks across the country moving to remote work setups, we caught up with Dr. Kate Henderson, a chiropractor at the University of Guelph's Health and Performance Centre, to discuss some tips to optimize back health for those who are now spending more time than ever at home in front of a computer.
---
---
"One of our tools as chiropractors here at the HPC is to educate our patients on how they can balance the goal of optimizing their musculoskeletal health, with the reality of needing to get their work done, which often involves sitting," says Dr. Kate Henderson, a member of the HPC's team of chiropractors since 2015. "First, we recommend that you take a look at your workstation and do an ergonomic run-down. The focus is on supporting your body and spine's natural curves so that your muscles, ligaments, and discs aren't overly stressed over time."
Creating an ergonomically-sound set up can be especially challenging for individuals who work exclusively off laptops. In which case, Kate recommends utilizing an external keyboard and monitor if possible, to avoid straining your neck to look down at your screen or straining your arms to reach up to your keyboard. But an ergonomically-sound workstation setup is only half the battle, says Dr. Henderson.
"It's great to have an optimal 'default setting' and perfect posture, but the key is to get out of it as often as possible," adds Kate, a U of G alum and former Gryphon varsity athlete (women's cross country). "Regularly moving and changing positions is key. This can be a microbreak or movement like shifting the way you're sitting, standing to take a call, doing a standing or seated stretch or getting a glass of water. We also encourage patients to break up prolonged sitting with macrobreaks, like a lunchtime walk."
For more information on some of the key elements of an ergonomically-sound office set up, see the infographic below (courtesy the Ontario Chiropractic Association).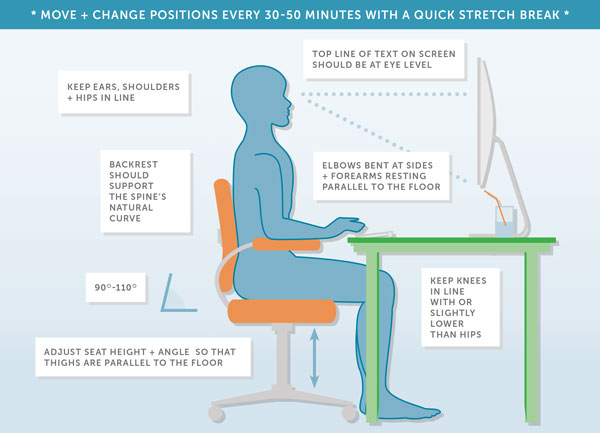 Struggling with chronic pain from an extended work-from-home set up? Call now to book an appointment with Dr. Kate Henderson or any of our talented, certified practitioners at the University of Guelph's Health and Performance Centre! The HPC is open to the public and ready to help you achieve your desired level of health and performance!
---