Exam Season Self-Care Tips & Resources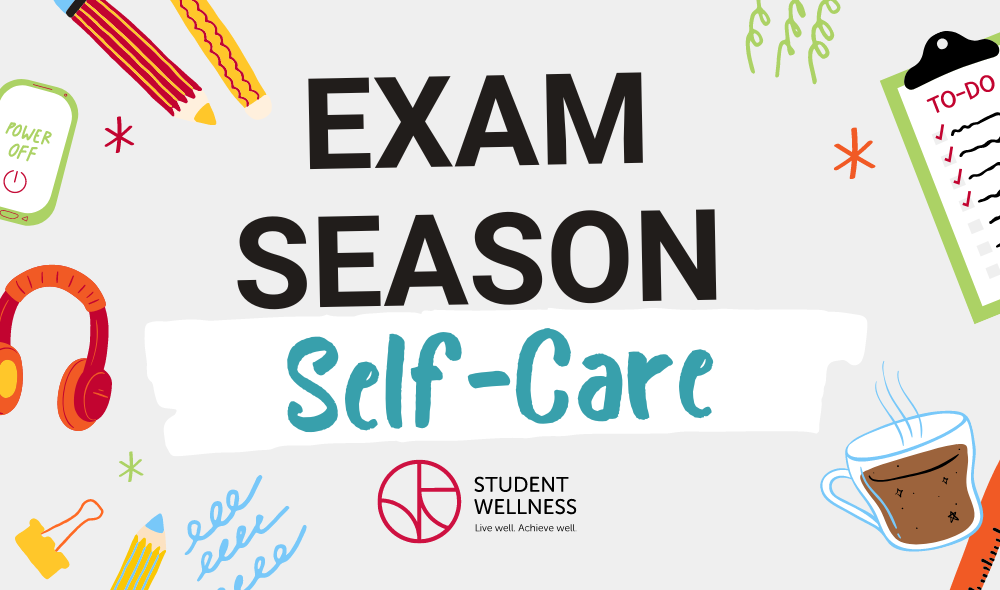 Exams are a busy and stressful time for students! Putting some time aside to practice self-care during these stressful times is increasingly important to help support both your mental and physical health.
TIP 1: Schedule in study breaks
While studying it is important to take purposeful breaks. Research has shown that purposeful 5–60-minute breaks while studying allow your brain to refresh and your body to increase its energy. This increase in energy allows you to be more productive and be more focused. Try to fit in a walk during your next study session or a snack to help keep your energy up!
TIP 2: Sleep well, especially before exams!
Good sleep is always important and not sleeping well can impair the skills you need to do well on exams.
Stay off your phone half an hour before you plan to sleep try to read a book or journal before bed to relax your mind.
Cut out caffeine after 3pm and try not to eat too close to bedtime.
Plan a bedtime routine so your body can plan to shut down for the night and you get a restful night's sleep
TIP 3: Don't forget to eat!
Food is fuel! Give your body all the nutrients that it needs to function at its best. This includes drinking water, eating fruits and veggies, and getting enough protein and vitamins in.
TIP 4: After studying a lot of material, take time to breathe.
The stress of an exam can be very unpleasant. Taking some time to breathe and be mindful, after every batch of questions can help alleviate some of the stress and anxiety you may be feeling during your exam. Try these Deep Breathing Exercises
TIP 5: Keep up with physical activity
You can recharge your energy and get a good distraction by going for a stroll, stretching for a while, or practicing some quick yoga. You'll probably feel more concentrated when you get back to your work if you give yourself permission to take a break from it and turn your brain off for a while.
TIP 6: Prioritize your time! Be mindful of time allocation.
Exam season can fly by quickly! Stay on track by writing in a calendar or planner. Set aside enough time to study for each of your finals, being sure to schedule in those much-needed breaks!
TIP 7: Keep a strong support network. 
During exams it's important to keep a strong support network. Let friends and family know that you may need more support than usual, because it's exam season. There are also resources on campus that can help you if you need to talk.
---
Resources
Student Support Network (SSN): 
Drop-in peer support provided by extensively trained student volunteers who provide confidential, non-judgmental listening and support to other students. More info and hours at wellness.uoguelph.ca/ssn
Counselling Services Academic Support Resources: 
Are you struggling with your academic commitments? Depending on your situation, there may be specific academic supports that can be considered. Learn more.
Peer Wellness Educators:
Our team of Peer Helpers facilitates events and workshops aimed at supporting students in managing their stress, building connections, and improving their well-being. They also create educational content for social media (like this post) on a variety of topics. Follow us on Instagram & our GryphLife page for upcoming events.
Academic Resources: 
The University of Guelph Library offers several free resources to help students succeed academically. Learn study skills, meet with course-specific study groups, or meet with a program counsellor to get started on the right foot.
Stress Less for Tests

: This online, on-demand workshop provides 3 hours of information and training in practical strategies to decrease test anxiety while in class, studying, before the exam, and during the exam. Skills development is emphasized, and daily practice is very strongly recommended. University of Guelph students  - to request your Coupon Code, e-mail your name and Student ID number to 

ksomers@uoguelph.ca

.

Relaxation & Stress Management Skills Training Program

 This group program meets twice a week for 6 weeks (12 sessions in total) to maximize the opportunity to practice and develop strong skills in releasing body tension, and calming and focusing the mind. This educational program emphasizes skill acquisition and education about stress management and high performance. This is not a self-disclosure or therapy group; the purpose is skills practice.

CCI (Centre for Clinical Interventions) Looking After Yourself: Online modules: Procrastination, Perfectionism
On campus academic resources – The Digital Learning Commons provides access to resources from the University of Guelph Library and Learning Commons to help you with your learning, writing, and research needs. This includes studying and test taking support, as well as support for procrastination and time management.

Also, Math and Stats help – McLaughlin Library, 3rd floor. Science help, Chem and Physics, Science commons, and Tutoring at Guelph.