GEM Volunteer Program: Gryphons Empowered Through Movement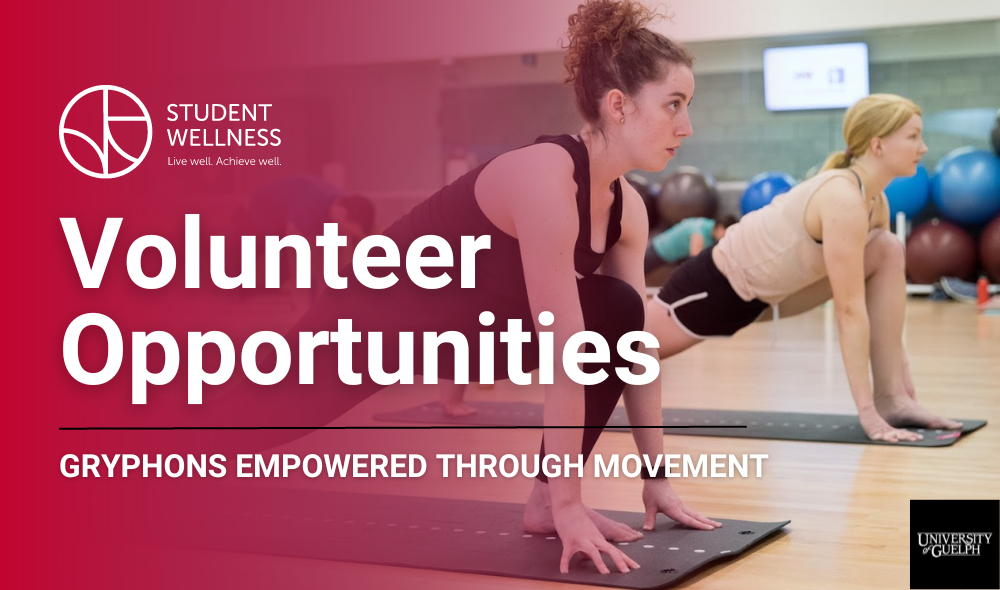 The Gryphons Empowered by Movement (or GEM) program at the University of Guelph is a collaboration between Student Wellness and the Department of Athletics Fitness & Recreation. This peer-to-peer program is designed to help students with mild to moderate anxiety and depression through the power of physical activity, with the support and accountability provided by their "Buddy", over the course of 8 weeks. 
Apply: Visit ExperienceGuelph.ca to apply 
---
Role and Expectations of GEM Buddies: 
Buddies should be familiar/experienced with regular exercise. This can take the form of cardio/strength-based workouts, yoga, dance, pilates, swimming, team sports, etc. 
Buddies will be matched with program participants by the Program Coordinators based on their preferred methods of physical activity and other participant criteria. 
Buddies will help their participants experience different ways of incorporating physical activity into their lives, like walking, yoga, fitness classes, and weights, based on the participant's preferences.  
Buddies will coordinate regular (ideally weekly) meetings with their participants to discuss goals and hold physical exercise sessions together. Buddies are not expected to act as personal trainers to their participants, but to help them feel more comfortable with exercise.  
Buddies will be a source of encouragement and accountability for their participants and will help develop a sense of community.  
Buddies will complete admin tasks, such as taking meeting notes.   
Buddies will refer participants to relevant resources as needed. 
Buddies will receive training from the GEM Program and the Wellness Education and Promotion Centre on topics such as motivation and coaching skills, active listening, support and referrals, and more. On-going training opportunities on relevant topics will be provided throughout the year. 
---
Time Commitment
Up to 3-5 hours per week*, including meetings with participants, administrative tasks, and team meetings/training opportunities.

Subject to change, pending number of participant referrals. 
---
Dates
This semester's dates are TBD.  
---
For questions, contact wellness@uoguelph.ca.