Student Wellness Winter Break Closure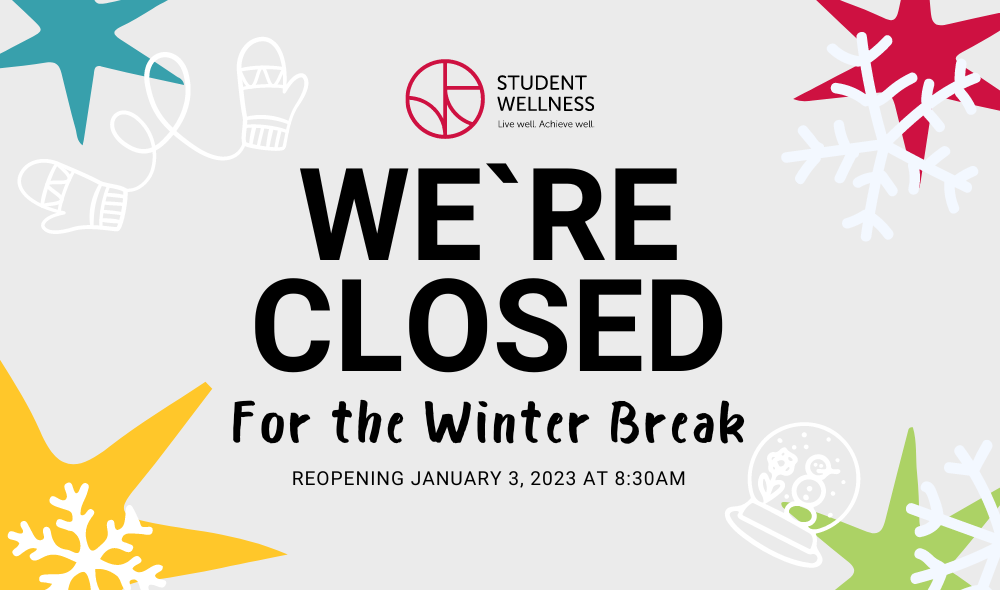 Please note, Student Wellness Services (Counselling, Health Services, Accessibility Services (SAS) Sexual and Gender-Based Violence Support & Education, The Health & Performance Centre (HPC) (see HPC hours below), Student Support Network (SSN), and the Wellness Education & Promotion Centre) are closed as a result of the University of Guelph campus winter break closure from Friday, Dec. 23, 2022 - Tuesday, Jan. 3, 2023 at 8:30am. Below is a list of potential resources available while we are closed. 
From all of us here at Student Wellness, we wish you a gentle and restful holiday season and winter break.
---
Accessing Medical Care
All Student Health Services are closed during this break. If you are in need of medical care, please view our list of Guelph Drop-In Clinics. If you are experiencing moderate cold/flu or possible covid symptoms, you can call the Guelph COVID Cold Flu Care Clinic at calling (226) 773-1922. Please note: this service is by appointment only. The Guelph COVID Cold Flu Care Clinic is open Monday - Friday 8:45 a.m. - 4:15 p.m., and Saturdays & Sundays: 9:15 a.m - 12:45 p.m.
Health Services Holiday Hours: 
December 22, 2022 - January 2, 2023: CLOSED
Reopening on January 3, 2023 at 8:30am
Accessing Mental Health Resources & Support Services
The winter break can be difficult for many reasons. If you find your mental health is being negatively affected during the break or are in crisis, please consider reaching out to these 24hr resources:
Check out our Instagram holiday break series on boundary setting, self-care tips and more for resources that may help to make this break a bit more gentle for you.
Self Care 
New Year Intentions
Winter Blues
Resetting for a New Semester
Accessing Sexual and Gender-Based Violence Support
Health & Performance Centre (HPC)
The Health & Performance Centre (HPC) will be open during some of the campus closure. Here is a list of the clinic's Holiday Hours: 
Dec. 23 - 27, 2022: CLOSED
Dec. 28 - 30, 2022: 10:00am - 4:00pm
Dec. 31, 2022 - Jan. 2, 2023: CLOSED
Regular hours resume Jan. 3, 2023
All services offered at the Health and Performance Centre are open to the general public/Guelph community, as well as U of G staff, faculty and students. For more information, visit uoguelph.ca/hpc