Student Wellness Services Announces 2020-21 Awards

The University of Guelph, Student Wellness and Health Performance Centre is proud to celebrate a memorable 2020-21 year by announcing their staff, volunteer and student award recipients. A total of 10 award winners from the year have been unveiled including the distinguished Robin Begin and Forrest Caldwell staff awards.
"We've always taken our inspiration from our students, volunteers and staff, never more so than this year where everybody has had  to be innovative, understanding and adaptative to the complexities of operating during an on-going pandemic," said Student Wellness Director Alison Burnett. "Our resilience showed this year, and I'm so proud of how we've all supported each other and the broader campus."
---

Award Recipient Summary:
Robin Begin Staff Award – Melissa Beacom
Robin Begin Staff Award – Rebecca Skelhorn
Forrest Caldwell Staff Award – Heidelein Friesen
Marlene Pfaff Wellness Education & Promotion Award: Tony Nguyen
Wellness Education & Promotion Volunteer Award: Katrina Hiiback
Liz Honnegar - SSN Award: Mikaelia Miller
Barry Wheeler SAS Award - Rachel Gottschling
Bruno Mancini SAS Award - Jessica Martin
Cyndy McLean HPC Award - Fausta Ferzoco
Outstanding Chiropractic Volunteer – HPC: Devin Adams
Outstanding Physio Volunteer – HPC: Nicole Walker
---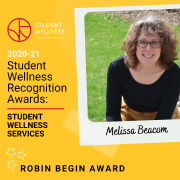 Robin Begin Award – Staff Award: Co-Recipient Melissa Beacom
Melissa Beacom, Advisor for Students with Disabilities has been named a co-recipient of the Robin Begin Staff Award which honours a member of the Student Wellness Services team who takes initiative to have a positive impact on the wellbeing of students at the University.
Melissa's inclusive and inquisitive approach helps to ensure that both departmental and broader University policies remain flexible to the unique needs of all students, particularly those with disabilities. She is readily able to meet students where they are, understanding their unique circumstances and needs. Melissa's non-judgmental approach assists students in understanding their options and responsibilities; and supports their agency in choosing what is best for them. Melissa goes above and beyond in her interactions with students, developing a shared relationship in which students feel heard, supported, and empowered.
Always with a warm and empathetic demeanor, she is helping students find their inherent self-worth, broadening their self-awareness, increasing their self-confidence and self-advocacy skills.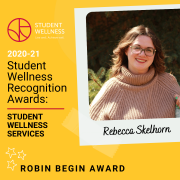 Robin Begin Award – Staff Award: Co-Recipient Rebecca Skelhorn
Rebecca Skelhorn, Wellness Educator has also been named the recipient of the Robin Begin Staff Award which honours a member of the Student Wellness Services team who takes initiative to have a positive impact on the wellbeing of students at the University. Rebecca is a listener and an observer, despite the pressures of her role and difficulties that students face, she is a calm, reassuring presence. Her positive attitude throughout this challenging year exemplifies resiliency for the students she works with and supports.
She is a person who makes others feel supported. By taking the time to laugh with her students while staying on top of the upcoming trends, she has built an effective, collaborative environment that gets incredible work completed while also prioritizing student well-being.
Rebecca has also learned the ropes of health promotion quickly and remarkably innovated programming in ways that supported UofG students including coordinating both the SHINE podcast and the Housecalls program for Graduate students and bringing increased attention men's mental health.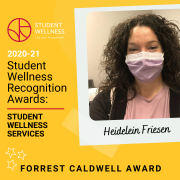 Forrest Caldwell Award – Staff Award: Heidelein Friesen
Heidelein Friesen, Manager of Clinical Services has been named the recipient of the Forrest Caldwell Memorial Award for her contribution to significantly fostering a positive and collaborative atmosphere within the department of Student Wellness Services.
In every meeting and interaction, Heidelein regularly conveys a positive, optimistic and "We can do this" attitude. She is consistently available and approachable to both students and staff. It is not unusual to see a small lineup of people outside of her door and when the moment arrives that you are head of that line, she greets you with a warm smile and gives you her full and undivided attention.
Heidelein is consistently calm, measured and practical, facilitating successful problem-solving skills. She has shown true compassion and caring for the staff, at times when they were scared and confused and always takes the time to listen, even when her day is very busy.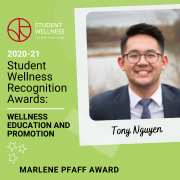 Marlene Pfaff Wellness Education & Promotion Award: Tony Nguyen
Tony Nguyen has been named the recipient of the Marlene Pfaff Wellness Education and Promotion Award given to a peer wellness educator who demonstrates initiative and compassion through their commitment to social justice, inclusivity, collaboration and the well being of students.
Tony is the senior peer for the Forward Minds team in Wellness Education. He is an incredibly motivated, dedicated, and reliable team member who has been instrumental in coordinating our mental health educational initiatives this year. Most notably he has chaired our Mental Well-Being Committee in preparation for SHINE Week, MC'd our Let's Talk Mental Health panels, created a brand new workshop & discussion on men's mental health, and coordinated guests for our new mental health podcast, The Shine Cast.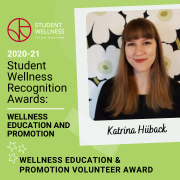 Wellness Education & Promotion Volunteer Award: Katrina Hiiback
The Wellness Education and Promotion Volunteer Award goes to Katrina Hiiback for her dedication to the activities of the Wellness Education and Promotion Centre's volunteer program. Katrina was a graduate student support circle facilitator from the very early days of the program and was instrumental in not only recruiting and developing the program in-person, but played an enormous leadership role in ensuring it could transition online over the summer.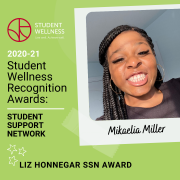 Liz Honnegar - SSN Student Award: Mikaelia Miller
Mikaelia Miller has been named as the Liz Honnegar SSN Award recipient. This award is aimed at honouring a student who has given above and beyond the requirements of a Student Support Network volunteer, and has exceeded in the areas of commitment, balance, attitude, care for others, and peer counselling skills.
 
Mikaelia is both an extraordinary Student Support Network volunteer and an empathetic, optimistic, and hard-working individual. This year, Mikaelia enthusiastically stepped up as an SSN representative to provide support for her fellow BIPOC students. In our weekly team meetings, she is always a beacon of light even during the most difficult times. Alongside volunteering her time with the SSN over the past two years, Mikaelia has worked with the leaders of tomorrow in the UofG Child Care and Learning Centre. Her initiative, kindness, and positive attitude make Mikaelia the perfect candidate for this award. Mikaelia is following her dream next year by attending Carleton University for a Masters program in Forensic Psychology.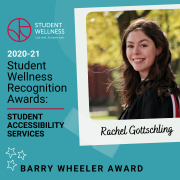 Barry

 Wheeler Award

- Student Accessibility Services: Rachel Gottschling
Rachel Gottschling has been awarded the Barry Wheeler Award from the office of Student Accessibility. This award is presented annually to a student who has offered their time and expertise toward assisting students registered with Student Accessibility Services (SAS). The recipient of this award demonstrates a strong commitment to caring for others, providing consistent support, and enhancing accessibility on campus
Rachel is in her fifth semester with the SAS office and has always been a diligent and enthusiastic contributor to the team. She brings a kind and caring personality to students online who need a friendly face and has reached out repeatedly and problem-solved when students don't respond. Rachel has researched on her own for strategies and techniques to help students stay on top of their work and has the most wonderful, positive attitude and makes others feel good about what they're doing.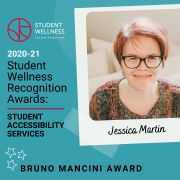 Bruno Mancini Award – Student Accessibility Services: Jessica Martin
Jessica Martin has been named as the winner of the Bruno Mancini award which honours an individual or group, including students, staff and faculty, who have contributed significantly to promoting and advancing accessibility at the University of Guelph. Jessica has put in countless hours, including many evenings and weekends, to ensure students have the accommodations they need for online quizzes, tests and exams. As needed, Jessica facilitates accommodations with individual course instructors, and again, she does this with great professionalism. Jessica has been a collaborator on figuring out a process for supporting instructors with setting up these accommodations.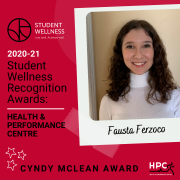 Cyndy McLean Award – HPC Clinic: Fausta Ferzoco
The Health and Performance Centre is pleased to award Fausta Ferzoco with the Cyndy McLean Award which recognizes a volunteer who demonstrates compassion, altruism, dedication, enthusiasm and leadership. Fausta has been engaged throughout the year at HPC in her sessions and follow-up work. She has a fantastic quality of work which her peers have noted in all her sessions.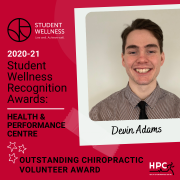 Chiropractic Volunteer – HPC: Devin Adams
Devin Adams has been named the Outstanding Chiropractic Volunteer for the year after consistently completing her work on time and providing good quality of submissions. Devin has been a model volunteer with outstanding communication with her supervisor.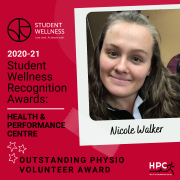 Physio Volunteer – HPC: Nicole Walker
Nicole Walker has received the Outstanding Physio Volunteer award. Nicole consistently completed quality work on time with great communication with her supervisor. She was pleasant to work with and made a point to get to know the other HPC volunteers and colleagues.