Judy Lynch | Head Athletic Therapist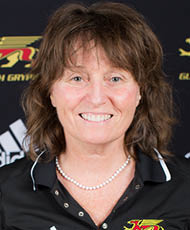 Judy Lynch - Head Athletic Therapist
Judy has worked at the University of Guelph for over 30 years with her impressive career in athletic therapy first starting at U of G in 1988. Judy is a Registered Kinesiologist and Certified Athletic Therapist who officially took over as the Head Athletic Therapist for the University of Guelph's Department of Athletics in February of 2021. She works with all Gryphon varsity sports covering field events, doing clinic assessments, treatments/rehab. She does all the scheduling of Athletic Therapy coverage for Varsity home competitions and is also responsible for overseeing the recruitment and training of the Volunteer Student Trainer Program, which she teaches at the University as the lead instructor for BIOL 3650, "An Introduction to Athletic Therapy."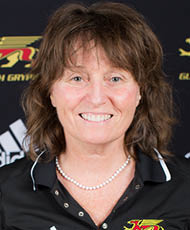 Education:
University of Toronto, Bachelor of Physical and Health Education (BPHE)
Diploma Sheridan College, Athletic Therapy
Continuing Education and Certificates:
Cranial Sacral Therapy I and II
Basic Life support Certificate (BLS)
Traumatic Brain Injury Assessment and Treatment (Anne Hartley)
Myofascial Release
Kinesio Taping course
Instructor for University of Guelph's BIOL* 3650 "An Introduction to Athletic Therapy"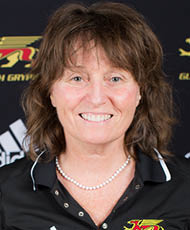 Professional Membership & Licenses
​Canadian Athletic Therapists Association, (CATA) Certified Athletic Therapist
Ontario Athletic Therapists Association  (OATA)
​College of Kinesiologists of Ontario, (CKO) Registered Kinesiologist