Student Wellness Honours 2022-23 Staff & Student Awards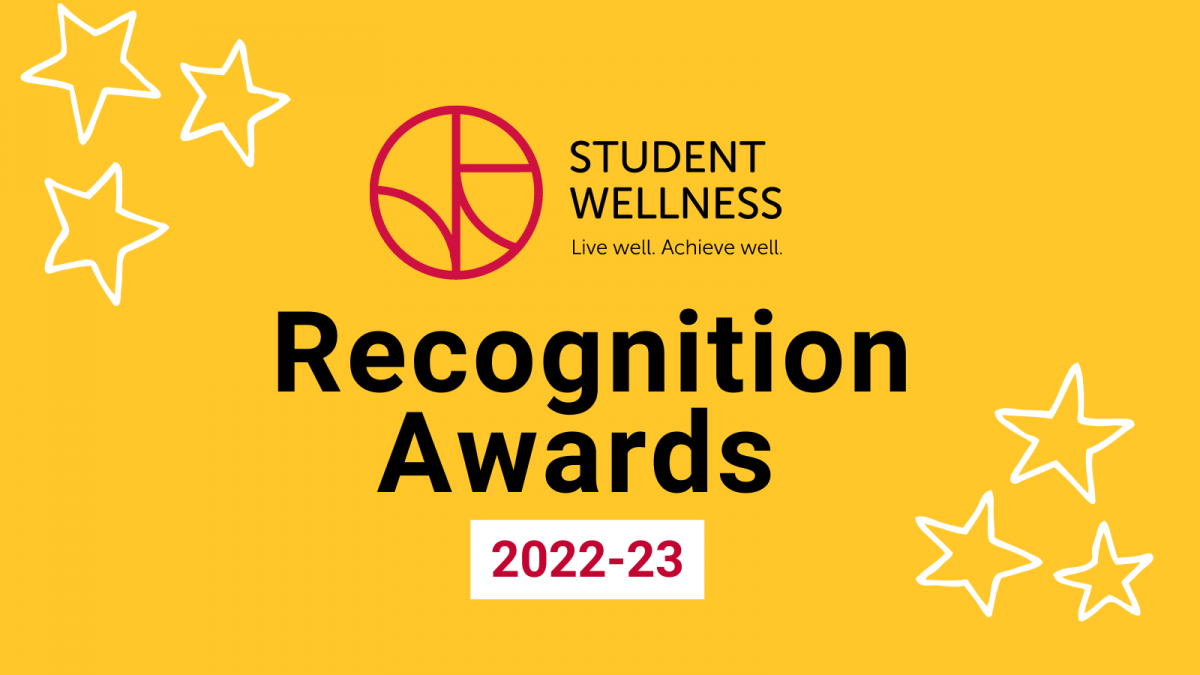 The University of Guelph, Student Wellness Services proudly announces the 2022-23 staff, volunteer, and student award recipients. A total of eight award winners from the year were honoured, including the distinguished Robin Begin and Forrest Caldwell staff awards.
Award Summary
Christabel Arubi, Wellness Education & Promotion Volunteer Award
Shaima Alam, Marlene Pfaff Wellness Education and Promotion Outstanding Peer Award
Ayush Nair, Liz Honegger Student Support Network Award
Elisa Haley, Barry Wheeler Volunteer Award
Samantha Rutherford, HPC Cyndy McLean Award
Hannah Traynor, HPC Outstanding Physio Volunteer
Blake Brand, HPC Outstanding Chrio Volunteer
Naszrin Arghoshi, Robin Begin Staff Award
Christine DaPonte, Forrest Caldwell Memorial Staff Award
---
Wellness Education and Promotion Awards
Wellness Education and Promotion Volunteer Award, Christabel Arubi
Recognizes the student who offered the most of their time to the activities of the Wellness Education and Promotion Centre's volunteer program and left a helpful impression on the rest of the WEPC team!
The Wellness Education and Promotion Volunteer Award goes to Christabel Arubi for her dedication to the activities of the Wellness Education and Promotion Centre's volunteer program. Christabel joined the volunteer team in the summer, and has been a constant support to our programming ever since! She shows up, is passionate about the work, and always has a warm and positive energy about her. Congratulations & thank you Christabel!
Marlene Pfaff Wellness Education and Promotion Outstanding Peer Award, Shaima Alam
This award recognizes a Peer Wellness Educator who demonstrates initiative and compassion through their commitment to social justice, inclusivity, collaboration, and the well-being of all students
"Shaima has been with the Wellness Education and Promotion Centre for many years and has seen it through its many recent homes and iterations. During that time, she has helped grow our programs into what they are today. Her creativity and passion shine through in everything that she does. She is a fierce advocate for students, passionate about health education, and is an incredible leader. The Wellness Centre will absolutely will not be the same without her and I know I'm not alone in saying that that Shaima Alam is an incredibly deserving recipient of the Marlene Pfaff award."
Liz Honegger Student Support Network Award, Ayush Nair
This award is aimed at honouring a student who has given above and beyond the requirements of a Student Support Network volunteer, and has exceeded in the areas of commitment, balance, attitude, care for others, and peer counselling skills.
Ayush Nair is more than deserving of this award. His enthusiasm, energy, kindness, and ability to make anyone feel heard, is so valuable to the service and the other volunteers. Ayush is incredibly passionate about helping others and is always upbeat and full of energy. Ayush is willing to help in any way that he can, and his presence adds so much joy to the Student Support Network. Ayush, thank you for being such a wonderful listener, compassionate and caring friend, and all-around lovely person. The student support network was truly lucky to have Ayush and it is without a doubt that he will only continue to make a positive impact on this world.
---
Student Accessibility Awards
Barry Wheeler Volunteer Award, Elisa Haley
This award is presented annually to a student who has offered their time and expertise toward assisting students registered with Student Accessibility Services (SAS). The recipient of this award demonstrates a strong commitment to caring for others, providing consistent support, and enhancing accessibility on campus
---
Health & Performance Clinic (HPC) Awards
Cyndy McLean Award, Samantha Rutherford
The Cyndy McLean Award recognizes a volunteer who demonstrates compassion, altruism, dedication, enthusiasm and leadership.
Sammy embodies what it is to be a fantastic HPC volunteer. Her acquisitive mind lends to her making the most of this learning experience knowing full well that the knowledge and skills that she obtains from clinic will serve her well in the future as an aspiring health care provider. Sammy's compassionate nature works wonders to enhance the experience of all patients that she interacts with. Sammy leaves the HPC program better thanks to her contributions.
Outstanding Physio Volunteer, Hannah Traynor
This award recognizes an HPC physiotherapy volunteer who has gone above and beyond in their role.
Hannah brings a positive attitude that is infectious to all around her. It is clear that her primary objective for every shift is to make the experience of the patient a better one. She makes efforts to connect with patients which is invaluable to their success in rehab. Outside of the clinic, she makes every effort to get the most out of her experience by participating in any and all opportunities - whether it be an in-service or completing a literature review. Hannah is a fantastic liaison for the HPC with us being so appreciative of her efforts within the program.
Outstanding Chiro Volunteer, Blake Brand
This award recognizes an HPC physiotherapy volunteer who has gone above and beyond in their role.
Blake has been an exceptional chiropractic volunteer this past year at the HPC. He is always professional, engaged, and ready to help at every shift. He has shown an excellent ability to translate what he has learned so far in his studies to what he sees in the clinic. He asks thoughtful questions and is always looking for ways to learn more…. Despite a busy schedule of courses and varsity athletics training, Blake makes an effort to attend every workshop he can, even if he can only stay for part of the time. He communicates quickly and effectively and was a reliable and enthusiastic volunteer at College Royal this year.
---
Student Wellness Services Staff Awards
Robin Begin Student-Focused Leadership Award, Naszrin Arghoshi
This award is named in honour of Robin Begin, who served as a tireless advocate for students, helping them to find a voice in the face of difficult circumstances. In honour of Robin's legacy as a champion for students who are navigating large and complex systems, and her commitment to connecting on a human level, this award honours a member of the Student Wellness Services team who takes initiative to have a positive impact on the wellbeing of students at the University.
This is Naszrin's second year in her role as point person for Black, Indigenous, Racialized and Students of Colour and she consistently highlights the needs of marginalized students and lives the value of student focused care. I'm nominating Naszrin for the Robin Begin award as she always stretches to make certain that the student perspective is considered, and the intersectionality of each student is considered in their care.
Yes, you could argue due to her job description some of this is an expected part of her role. However, Naszrin goes beyond her role, joining the EDI committee, providing reminders to all of us about cultural holidays or celebrations, resourcing trainings for both students and staff, and asking difficult questions about administration, SWS systems and the clinical work of colleagues. She makes us all think about the impact of our perspectives and is consistently asking us to be more aware of the layered aspects of identity and the anti-racism in all our interactions.
Forrest Caldwell Memorial Award, Christine DaPonte
Forrest Caldwell was a cherished physician who dedicated 20 years to serving the University of Guelph community. As a member of the SWS team, Forrest was a champion for collaboration within the department. Forrest endeavoured to be available and approachable to both students and staff and was known for managing many demands with a whistle and a tune. This award recognizes an individual within Student Wellness Services who has contributed significantly to fostering a positive and collaborative atmosphere within the department.
Congratulations Christine DaPonte, administrative assistant for Student Wellness!
Christine has always presented herself in a professional demeanor and demonstrates calm and reserve in stressful situations. The impact of the past couple years has demonstrates and pushed staff in ways we are not familiar with, however, Christine has demonstrated that she can adapt and succeed in these situation to improve the wellbeing of staff in SWS. Christine is very approachable and always open to help resolve challenging conflicts/situation with staff. Knowing that this support is there for staff allows us to focus more of our energy to supporting students.
I can not think of a member of SWS staff who deserves this award more. Christine is always in the background making sure we have what we need to undertake our roles and never seeks praise or recognition for her hard work. I would like to take this opportunity to do so.