Dr. Kate Henderson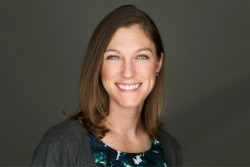 Kate's Tip to Clients:
We all know the value of maintaining an active lifestyle but it can be painful and frustrating to move often if we aren't moving well. Communicating with your chiropractor about your injury and your movement goals will allow them to meet you where you're at in the injury process and develop an individualized treatment plan. You can expect to be provided with strategies for reinforcing proper postures and movements,  and each visit will include a 'mini-audit' of how you're progressing to ensure that your treatment continues to provide optimal results.   
Education:
Doctor of Chiropractic, Canadian Memorial Chiropractic College
Bachelor of Science (Honours in Human Kinetics), University of Guelph
Continuing Education and Certificates
Sports Medicine Clinical Rounds and CME education series, ongoing monthly
Functional Integrated Needling: Sports Injury Management (April 2018)
Julie Wiebe's Female Athlete: Ready for Impact (2018)
Sports First Responder (August 2017)
Contemporary Medical Acupuncture, McMaster University (2011)
Julie Wiebe's Diaphragm/Pelvic Floor Piston for Adult Populations (2016)
Pelvic Floor for the Non-Internal Therapist (2016)
Panam/Para PanAm Sports Medicine Congress (2015)
Motion Palpation Institute: Analysis and Adjustive Technique Spine (2014), Dynamic Movement Assessment Upper Extremity (2013)
Run Faster: The Annual Conference of the Royal College of Chiropractic Sports Sciences (2013)
Professional Memberships and Licences:
Member of the College of Chiropractors of Ontario
Member of the Canadian Chiropractic Association
Member of the Ontario Chiropractic Association
Other Details:
Patients can expect a thorough assessment and diagnosis of neuromusculoskeletal injuries, followed up with individualized and goal-oriented treatment. Treatments with Dr. Kate Henderson may include manual therapy, myofascial release, contemporary medical acupuncture, and rehabilitation exercises.
Dr. Henderson has proudly worked as part of the Integrated Support Team with the University of Guelph Cross Country and Track & Field teams since 2015. She combines her personal experience as a former Gryphon runner, her understanding of sport-specific demands, and hands-on skills to provide injury prevention and performance care.
Dr. Henderson also has a keen interest in female athlete health and caring for women through the pregnancy and postnatal period. She specializes in providing women with evidence-based information and care in treating musculoskeletal pain, rehabilitating the core, and returning to fitness postpartum.
Competitions and Camps
USports Cross Country Championships, Kingston ON Nov 2018
Ontario University Athletics Cross Country Championships, London ON Oct 2018
Texas A&M Arturo Barrios Invitational, College Station TX Oct 2018
University of Guelph Gryphon Cross Country Training Camp Aug 2018
Speed River Inferno Track & Field Meet and National 10,000m Championships, Guelph ON June 2018
York Open, Toronto ON Feb 2018
Fred Foote Classic UofT, Toronto ON Jan 2018
University of Guelph Gryphon Cross Country Training Camp Aug 2017
Canadian National Track and Field Championships, Ottawa ON July 2017
Speed River Inferno Track & Field Meet and National 10,000m Championships, Guelph ON June 2017
Ontario University Athletics Track and Field Championships, York Feb 2017
Guelph Last Chance Meet, Guelph ON Feb 2017
Gryphon Track and Field Winter Training Camp, Guelph ON Jan 2017
Ontario University Athletics Track and Field Championships, Windsor Feb 2016
York Open, Toronto ON Jan 2016
Don Wright Invitational, London ON Jan 2016
PanAm/ParaPanAm Games, Toronto ON. Aug 2015

W Marathon, M 50K Racewalk, M Handball, and paracycling road course

Esso Cup. National Women's AAA Midget Hockey Championships. April 2014 Stoney Creek, ON
Laurel Creek Track and Field Club, Kitchener-Waterloo ON 2012-2015
Ontario Summer Games, Etobicoke ON. Aug 2012