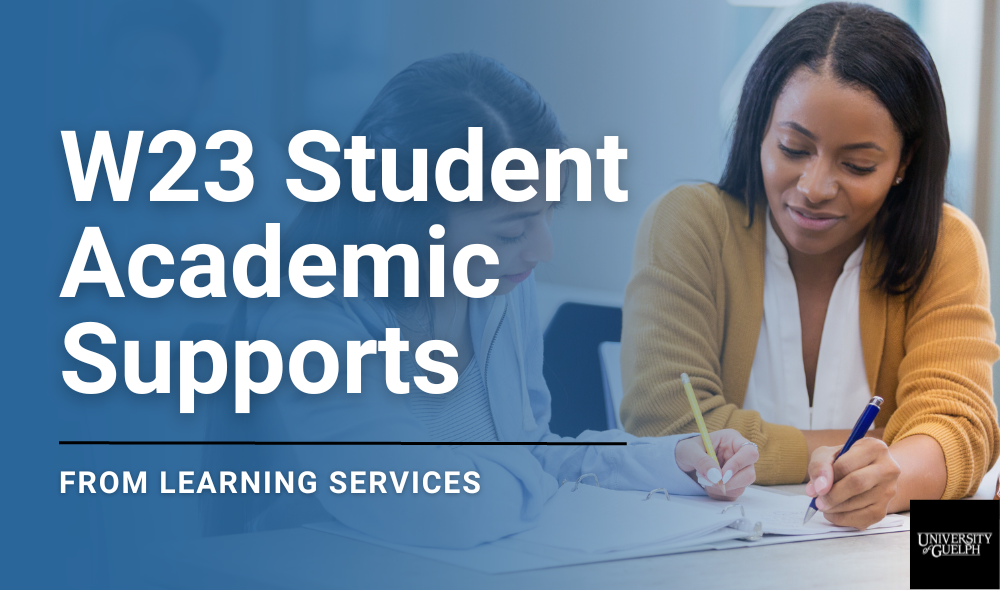 Learning Services in the Library would like to highlight several of our programs and services that support students' academic transitions. If you have any questions about our services and programs, please email learning@uoguelph.ca [1].
Thriving in Action Workshops
This workshop series, offered through Student Wellness and Learning Services, helps you learn new strategies in managing time and studying effectively while building skills in motivation, optimism, and resilience. Attend the entire series or just one. All workshops are held in person in the library.
Supported Learning Groups (SLGs)
Supported Learning Groups (SLGs) are free peer-led study groups held weekly in historically challenging courses. Come once or come every week! You can gain a greater understanding of course content, meet other students, test your knowledge, and leave with materials to review later. Visit Supported Learning Groups [7] for more information or the SLG Schedule [8] for session times and locations. NEW this semester: SLGs for PHYS 1080! 
Questions? Email slg@uoguelph.ca [9].
Academic Action Program
The Academic Action Program [10] offers semester-long support to help you reach your goals and  develop academic skill, such as reducing procrastination, building an effective study schedule, and maintaining motivation. Participants can also join small weekly accountability groups and receive a weekly email. Get started by booking an appointment [11].
Appointments
Book an appointment with a Learning Specialist or Learning Peer Helper [12] to create a study schedule, learn new ways to study effectively and efficiently, and/or identify strategies for managing time or reducing procrastination.  
Resources
Visit Calendars, Planners and Assignment Calculators [13] to print out free monthly calendars and weekly planners.
Looking for tips on taking notes, learning from textbooks, or dealing with distractions? Check out Effective Studying [14].